March 26, 2003
Hackers vs Microsloth
The Register has some more information about the Microsoft vs Hackers advert that was withdrawn in South Africa (because it was misleading).
Posted by Ozguru at 05:30 PM | Comments (1) | TrackBack
Flame Wars...
On MacSlash there was an article about the fact that Adobe has decided to publish some PC vs Mac benchmarks to demonstrate that the PC is faster for some tasks that a Mac. The reason for interest in the claim is that it coincided with Adobe promoting the sale of DELL PCs. The suggestion was that perhaps the choice of what benchmarks to publish may have been influenced by commercial realities.
This rapidly degenerated into a flame war between PC and Mac bigots each trying to claim that either they had a "bigger one" or "wider one" or "faster one" or "more handsome one" or something.
An annonymous coward published the following perfect (unedited) comment:
OK, everybody, the reality check has bounced.

Now, simmer down and repeat after me:

IT'S JUST A FREAKIN' BOX OF ELECTRONIC PARTS THAT WAS OBSOLETE BEFORE IT SHIPPED TO ME. MY COMPUTER CHOICE IS INSIGNIFICANT IN THE LARGER SCHEME OF THE COSMOS. I WILL FIND SOMETHING MEANINGUL FOR MY LIFE OTHER THEN BITCHING AND MOANING ABOUT WHICH COMPUTER IS FASTER OR BETTER BECAUSE MY LIFE IS TOO SHORT TO SPEND IT FLAMING MESSAGE BOARDS WITH MY IGNORANT AND/OR INSIGNIFICANT EPHEMORAL OPINION.
Now, don't you feel better?

Posted by Ozguru at 08:00 AM | Comments (0) | TrackBack
March 21, 2003
Icons?
Ever wondered what some of those symbols mean? You know, the symbols that are used as "universal" pictograms that replace words. Everyone recognises the one that says put red electrical tape over and around anyone who smokes....
Well a helpful site has put up the explanations for all the new icons that are used to explain terrorism. My favourite has to be the one for "Don't run if you set yourself on fire" which looks like this: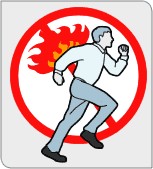 Posted by Ozguru at 07:00 AM | Comments (3) | TrackBack
March 20, 2003
101 Dumbest Moments in Business
For eveything under the sun there is somebody watching, collecting statistics and making lists. This one is the list of the 101 dumbest moments in Business for 2003.
The company we all loved to hate has 7 entries (more than any other single organization include MacDonalds). This includes entries #48, #49, #50, #51 which are all related to the promotion (demotion) of ".NOT". Entry #41 was related to the aborted campaign to spread graffiti all over New York to promote "MSN 8".
Entry #11:

Whiffed pitch No. 2: swiping your competitor's idea and completely screwing it up.
In an attempt to blunt Apple's (AAPL) "Switch" campaign, Microsoft posts a page on its website, titled "Confessions of a Mac to PC Convert," featuring a woman touting the Windows XP operating system. It's soon revealed, however, that the woman pictured is a model and the touting comes from a freelance writer paid by Gates & Co.
And the highest scoring entry for MicroSlosh is #5:

Celebrating the can-do spirit that continues to make American capitalism the envy of the world.
At a developers conference in September, Microsoft (MSFT) senior vice president Brian Valentine describes the state of the art in OS security: "Every operating system out there is about equal.... We all suck."
Speak for yourself Brian!
Also worthy of comment at #31 is the "Dude! You're getting a Cell!" episode.
Posted by Ozguru at 07:00 AM | Comments (0) | TrackBack
March 19, 2003
404 Not Found
Moveable Type have a system where users who have paid (donated) money for the software get listed in a "recently updated" section on the main page. This is a great way to find other blogs and explore the net.
There was an interesting site that I stumbled across last night: Zapology - blogging for attention deficient which in turn had a link to a great 404 page error (please read the error carefully).
I remember reading about how to do real 404 pages (and other smart stuff) in apache but I could never complete anything as witty as this one.
Posted by Ozguru at 07:30 AM | Comments (0) | TrackBack
All together now...
Apparently someone has found yet another exploit when you use Windows for real work on the Internet. First use of the exploit was in the .mil domain.
All together now ....
1 ...
2 ...
3 ...
Here's a nickel son, get yourself a real computer! (from Dilbert)
Could be a Mac, could be Linux, could even be a Sun box - just stop running toy systems in the real world. Cool for games, and fiddling but uncool for the military.
Posted by Ozguru at 06:30 AM | Comments (1) | TrackBack
March 14, 2003
Singalong...
While I was off sick, a friend sent me this lovely (catchy) song. It goes to the tune of "If you're happy and you know it, clap your hands":
If You're Happy And You Know It, Bomb Iraq
If you cannot find Osama, Bomb Iraq
If the terrorists are frisky,
Pakistan is looking shifty,
and North Korea is too risky,
Bomb Iraq.

If we have no allies with us, bomb Iraq.
If we think that someone's dissed us, bomb Iraq.
So to hell with the inspections,
Let's look tough for the elections,
Close your mind and take directions,
Bomb Iraq.
It's pre-emptive non-aggression, bomb Iraq.
To prevent this mass destruction, bomb Iraq.
They've got weapons that we can't see,
And that's all the proof that we need,
If they're not there,then they MUST be there,
Bomb Iraq.
If you never were elected, bomb Iraq.
If your mood is quite dejected, bomb Iraq.
If you think Saddam's gone mad,
With the weapons that he had,
And he tried to kill your dad,
Bomb Iraq.
If corporate fraud is growin', bomb Iraq.
If your ties to it are showin', bomb Iraq.
If your politics are sleazy,
And hiding cash connections ain't easy,
And your accountants getting queasy,
Bomb Iraq.
Fall in line and follow orders, bomb Iraq.
For our might knows not our borders, bomb Iraq.
Disagree?.... We'll call it treason,
Let's make war, not love this season,
Even if we have no reason,
Bomb Iraq.
Posted by Ozguru at 12:00 PM | Comments (0) | TrackBack