Please note that not all articles will appear in this archive page. You may prefer to search for specific articles via the search function on the main page...
---
This is a blog (apparently) by an antelope with a Mac. At least we get regular references to hooves on the keyboard :-)
http://www.macalope.com/
Posted by Ozguru at 12:00 PM
Completely tongue-in-cheek blog which reads just like the public perception of Steve Jobs. Well worth reading, and a great start to the day...
http://fakesteve.blogspot.com/
Posted by Ozguru at 12:00 PM
I just happened (by accident) to have clicked on the referrers list at SiteMeter and noticed a link from 'Walk this way....'. A quick click later and I had found what appears to be an excellent photo-blog. I was very impressed with a few of the photo tricks like the planet photo (circular image), and the collage. Worth a visit...
http://japee.journalspace.com/
Posted by Ozguru at 06:00 AM | Comments (1)
He hath. I hath readeth thome of it also.
Check out Serpentes on a Shippe! (spoylerez):

Al of Londoun ys aflame wyth newes of the grete entertaynment of 'Serpentes on a Shippe,' the which ys perfourmed ech daye by the menne of the gild of beekeeperes (and thus ys ycleped a 'b-movie'). Ich haue just nowe retourned from a trippe to see yt wyth Litel Lowys and Tommy Vske. Whan ich was ther, Tommy founde for me a copye of the romaunce in fyve chapteres on whiche the performaunce ys based, and Ich shal pooste yt heere for yower redyge. (This writer hath a verye good style - ich am reallye jealous. Oon daye, peraventure, ich shalle write sum thyng of Arthur; and yet, the matir of Troye hath alwey ben easier for me.)
It was so funny that I have added it to the blogroll for the time being.
http://houseoffame.blogspot.com/
Posted by Ozguru at 06:00 AM
An Aussie blogger with common-sense (which is very rare). Interesting posts on integration, dodgy lawyers and missile damage.
http://www.kevgillett.net/
Posted by Ozguru at 11:00 PM | Comments (2)
You just have to read this site. It is a fantastic mix of humour and puns (I know some people don't think puns are humour). There are also articles with a Christian bias and links to more sites that you can poke a stick at.
http://blogginoutloud.blogspot.com
Posted by Ozguru at 06:00 PM
Mr OH Snake is a regular visitor (and often leaves comments). His blog is one of the funniest you can find on the web. One recurrent theme in the posts is a desire to make money:

Lots of people commiserate with Ol' Hoss the Ancient in his single-minded pursuit of The Almighty Dollar, of which I need plenty to finance my Hoss-carryin' rocket ship to the Saggitarius Galaxy, where I will be brought back to life, Ted Williams-style. (Naturally, if I don't die I will probably donate all my money to a worthy cause, like maybe a porn site that doesn't get a lot of hits.)
Somehow that seems like a worthy cause :-)
Many of the posts also have a short "word for the day" as well. I especially liked:

My favorite word today is groper. n. loislaneism. Def.: A small dog trained to sniff your private parts.
http://www.oldhorsetailsnake.blogspot.com/
Posted by Ozguru at 03:00 AM | Comments (3)
It probably helps if you can read Chinese but this blog is run by the fastest SMSer I have ever met. Some of the stuff about uni (and my Alma Mater at that) brings back memories of the "best years"...
The author has some spectacular photos - like this one: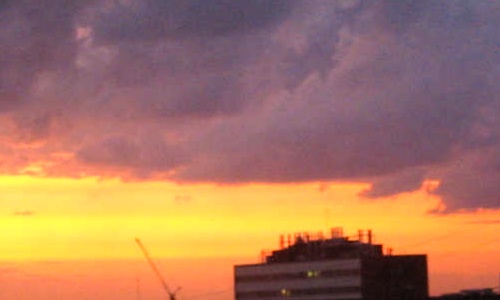 I think the building is Applied Sciences at UNSW.
http://spaces.msn.com/members/annen0213/
Posted by Ozguru at 04:00 AM | Comments (1)
How can you not blogroll someone with an article like: Stop that! It's Silly.:
Nobody supports Howard more than me: Costello channels monty python.
"Now nobody supports Howard more than me, except Vanstone and that Downer across the hall, Ruddock, and that insieous man who pumps my petrol in the morning. Ok maybe, maybe almost any else supports Howard more than me."
http://halfrsed.blogspot.com/
Posted by Ozguru at 03:00 AM
"Mind of Mog" my first introduction to WordPress (which I was using prior to shifting everything to mu.nu). The blog includes an amazing collection of cat photos and some real interesting tidbits like this observation about Wordpress and Safari....
http://www.mindofmog.net/
Posted by Ozguru at 03:00 AM
I can't remember what it was that first got me over to Da Goddess but it is now a regular visit. In fact, she offered to show me the sights if I made it to her part of the states (which I didn't) but I did get a note from LD (and sent him some irreverent Aussie songs).
I just wish I know how to generate 400,000 visitors in three years :-)
http://www.dagoddess.com/
Posted by Ozguru at 04:00 AM
Apart from being "A Fierce American in Toronto, Ontario", Debbye is a great read. Like Paul (All AgitProp) her perspective is often broader than a pure American blog because she can see some of the external perception (which is often mistaken*) of America.
[* I admit that my reaction to Americans in general was much improved after visiting the place :-)]
http://debbyestratigacos.mu.nu/
Posted by Ozguru at 03:00 AM
For some reason that escapes me, I keep getting the URL wrong for this blog. I ended up googling the phrase and then getting the URL right. Phew.
Tom has a very definite list of what he believes and doesn't believe:
I don't believe broccoli causes cancer, I don't think dogs need shrinks, I don't think high protein diets are healthy, I don't think humans are destroying the earth, I don't believe there is anything wrong with genetically modified food, I don't think humanity is screwed when we run out of oil, I don't find anything wrong with conspicuous consumption, I don't believe there is anything inherently evil about McDonald's, I don't agree with firebombing SUVs, I don't think people should be able to sue cigarette companies because they smoked for thirty years.
I believe in personal responsibility, very free markets, the Golden Rule, The Israeli separation wall, the war on terrorism, Hume, Locke, Rand, and Madison.
I would like to meet Robert the Bruce
Sounds good to me...
http://www.undercaffeinated.net/
Posted by Ozguru at 02:00 AM
How the heck did I miss PixyMisa on the first pass through the blogroll-repair exercise. It is thanks to the generous Pixy that so many blogs have a home on mu.nu.
Pixy actually lives in Sydney but I have not yet met him. Maybe we should organise a blog meet in Sydney so I can update the foaf fields :-)
http://ambientirony.mu.nu/
Posted by Ozguru at 01:00 AM
Have you ever come across a cat with a gun? Check out Alphecca, this guy helped to clarify my mind on some issues way back when I first started to get readers. I also thought originally that his byline was about a gumnut but actually it is:
Alphecca is an occasional blog by an independent, libertarian, gay gun nut from Vermont. Opinions about all sorts of stuff I know nothing about...
http://www.alphecca.com/
Posted by Ozguru at 05:00 AM
What happens when the Accidental Jedi meets Jay Solo of Verbosity fame? You get a husband and wife--and a blog named Accidental Verbosity...not to mention a baby named Sadie.
You also get to reduce the blogroll by one :-) Jay and Jedi make great reading and should be a daily visit...
http://www.accidentalverbosity.com
Posted by Ozguru at 04:00 AM
I am getting behind on the blogroll updates again and that means some great sites like Skipjack are getting behind. Skipjack actually took time out to meet me for lunch when I was in San Francisco last year - he also explained some of the uniqueness that makes up California :-) From memory, the lunch was during the San Francisco equivalent of the Sydney Mardi Gras (might have been called the Gay Pride or something).
I think my original contact with Skipjack was during a discussion of kilts - he wore won when he got married ...
It is sort of interesting to realise that I have only met in person a very small percentage of my blogroll - I need to do something about that...
http://www.skipjack.info/
Posted by Ozguru at 03:00 AM | Comments (3)
This is another blog with lots of geeky gadgets. Tech ronin also provides regular reviews of the various social networks and the latest palm devices.
http://tokerud.typepad.com/blog/
Posted by Ozguru at 01:00 AM
Sarpy Sam lives in Montana (and I have no idea where that is without looking at a map) on a ranch with a bunch of cattle. He provides a very different perspective on everyday issues (like artesian water). There are also some fantastic pictures like this one.
http://nowherethoughts.net/sarpysam/
Posted by Ozguru at 04:00 AM | Comments (2)
I first met Kazza recently when she commented on a post and then soon afterwards, won one of the random competitions on the blog. I had intended to offer her a guest post on the old blog but it coincided with the shutdown of my local server so I have not yet had the chance of doing it. As far as I know, I have not met Kazza but as she is in Sydney, it is always possible that our paths may overlap someday :-)
Kazza's post about 100 things is making me think that I ought to do something similar...
http://blog.kazza.id.au/
Posted by Ozguru at 02:00 AM | Comments (3)