« Having a bad day? | Main | Are You Free Mr Humphries? »
March 08, 2007
Bondi and Bean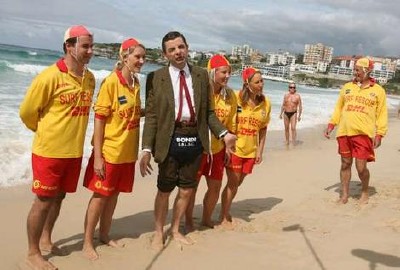 [NOTE: Click image to visit original image and story in SMH.]
IT WAS a sight that had scores of tourists and swimmers reaching for their camera phones.
On a rickety pushbike, Mr Bean came to Bondi Beach yesterday.
The much-loved comic creation of Rowan Atkinson took to the sand - dumping his familiar teddy and towel to meet the lifesavers.
"It's very nice here," he mumbled. "The weather's hot, but the water's very cold."
Posted by Ozguru at March 8, 2007 07:00 AM