« Sleeping in Meetings? | Main | Newsflash: 24-inch iMac pricing »
September 06, 2006
Newsflash: 24-inch iMac released
All the rumour sites have been speculating about a new 23" iMac - wrong.
It is 24" and it appeared on Apple's site this evening (and also in the US Apple Store). I can't believe that none of the Mac sites have spotted this yet....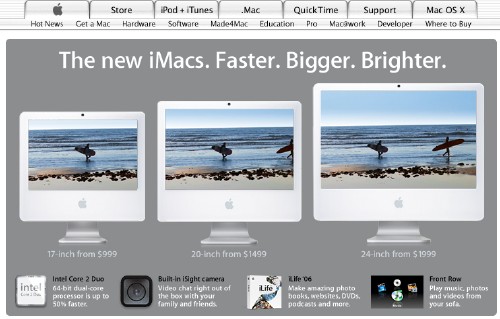 It is not on the Apple Australia site or store yet.
Posted by Ozguru at September 6, 2006 11:00 PM
Comments
MacObserver now has the story (40 minutes after you)....
Posted by: DragonFly at September 6, 2006 11:37 PM
See also SpyMac (about the same time as you).
Posted by: Rofl at September 6, 2006 11:39 PM