« Genuine Copy | Main | Does your Boss read your blog? »
July 29, 2005
Geek Toy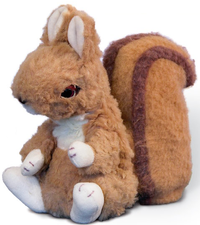 Check out the
new receptionist
idea from TechDigest:
It seems that soon secretarial work will be delegated to stuffed animals if pioneering work from the MIT Media Lab comes to fruition. The pic shows a 6" tall novelty toy that can be responsible for handling incoming phone calls. The squirrel is aimed at solving the problem of mobile phones interrupting important conversations by ringing at the least convenient moment. The solution is two-fold: firstly, the squirrel is capable, through extensive animatronics, of attracting attention to itself by sitting up, opening its eyes and gyrating manically. Secondly, and this is the more alarming aspect, the squirrel will engage in conversation with the incoming caller to establish the importance of the call based around keywords and the caller ID (presumably saying "answer the phone or you're fired" will get the call put straight through).
Posted by Ozguru at July 29, 2005 08:00 PM
Trackback Pings
TrackBack URL for this entry:
http://mu.nu/mt/mt-tb.cgi/2503
Comments
OMG, just what I need. Can I get it in plush tiger?
Posted by: Tig at July 30, 2005 12:01 AM
MB demands a large bear.
Those lads at MIT sure are quite the lot !! Many years ago, and since, MB has been entertained by their fun and games.

Posted by: MommaBear at July 30, 2005 11:52 PM
Mind you the only use that springs to mind so far is to be a geek gift for girls :-)
Still it could be more entertaining and it might be easier to throw across the room when the phone calls are driving you nuts....
Posted by: Ozguru

at July 31, 2005 09:52 PM
Tig,
You reminded me that my mother used to make stuffed Tigers for us when we were kids. It would have been about the right size and shape. Hmmm. I wonder if she has any of them still around.
Posted by: Ozguru

at July 31, 2005 10:05 PM
Did you delete my comment? I thought I posted a comment already - something about squirrels and nuts. Oh well, maybe I forgot to hit the Post button.
Posted by: Rofl

at July 31, 2005 11:02 PM
It's a switch bitch.squirrel
Posted by: Skin at August 2, 2005 02:15 PM