« Women vs Men | Main | Another Elevator Story »
March 15, 2003
What do Bears Eat?
Q. We all know that lions eat anything but what do bears eat?
A. Apparently they eat submarines .....
[Ed: The link is now defunct but by searching google I managed to find a cache of the original post at http://www.atlanticfleet.navy.mil/ssn21-bear0427.htm.]
The text reads:
Near the North Pole (Apr. 27, 2003) -- During Exercise ICEX 2003, the Seawolf-class attack submarine USS Connecticut (SSN 22) surfaced and broke through the ice. This polar bear, attracted by the hole which can be used to find food, was seen through the sub's periscope and these photos were captured as the image was projected on a flat-panel display. After investigating the Connecticut for approximately 40 minutes, the bear left the area, with no damage to the sub or to the bear. U.S. Navy photo by Mark Barnoff.
The photos (in order) were: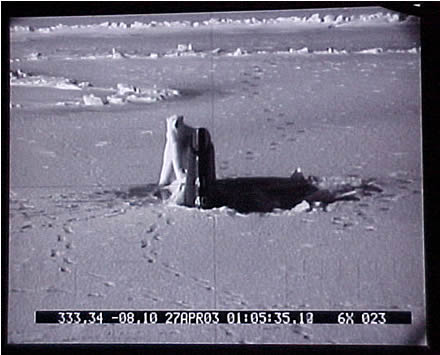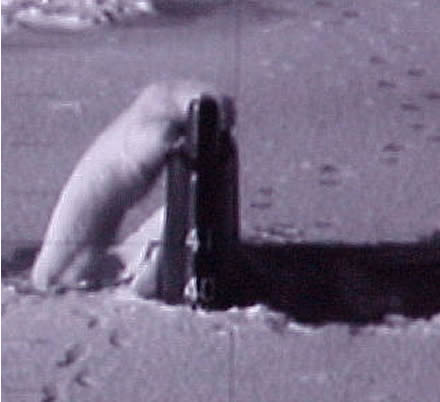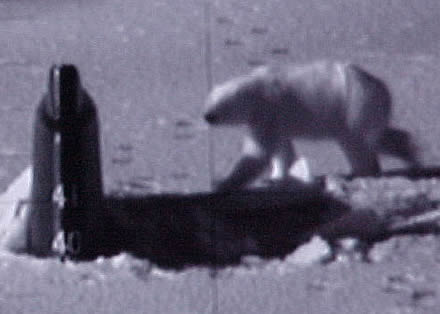 Posted by Peskie at March 15, 2003 12:00 PM
Comments
Gas Bill for $0.00
A friend (Thanks Yin!) sent me an email about a fellow who had a gas bill for $0.00 and the subsequent problems that this caused. Before posting it I decided to check it out on Google. Looks like I was...
Posted by: Gday Mate - Archive at May 26, 2003 07:05 PM
Searching ...
Thanks to Phil Baker, I have found something more interesting than looking at search queries in my web logs. Unfortunately there are two problems - first Phil does not provide any way to link to his article so it will vanish at some point in the future...
Posted by: GDay Mate at May 26, 2003 07:05 PM